Knowledgeable * Experienced * Professional Working to secure the best outcomes for our clients
Specialist Adult & Paediatric

Case Management
Brain Injury | Spinal Injury
Athena Case Management specialises in supporting people with complex injuries at home, throughout the United Kingdom. Our aim is simple to enable people to regain control of their lives following a major healthcare event.
This is achieved by focusing on the specific complex conditions we support and through providing professional, knowledgeable and responsive support.
Our Case Management service is characterised by:
Payroll services to support clients who have chosen to employ their own staff, but require support to manage them.
Rehabilitation provided by our expert team of psychologists, physiotherapists, occupational therapists and speech and language therapists.
Supporting our clients to develop, implement and regularly review their own support plan ensuring each client and is always at the centre of any decision making process.
Ensuring every Case Management client is introduced to their prospective support worker(s) and with their family selects their own care support team.
Investment that provides the support teams training and clinical skills, which are unique to each client's needs.
Rehabilitation & Re-ablement Services
We have an extensive list of associates from whom the following services can be commissioned:
Physiotherapy
Occupational Therapy
Clinical Psychology
Speech & Language Therapy
Support & Development Guide
We hope you'll find all the information you require on this web site and invite you to download our Support & Development Guide.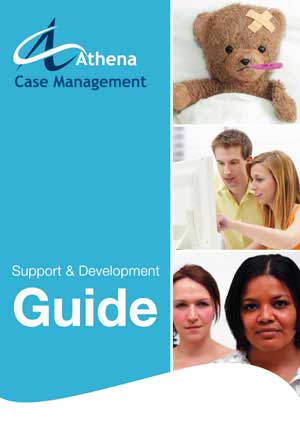 If you have any further queries, please do not hesitate to contact us.
Our Clients say ...
Thank you for the high standard of case management services during the first year of service, we look forward to continuing to work with you over the coming year ...